Happy Friday 🙂  How was your week?  I hope you had an enjoyable one.  If you live in the U.S. it's really a tense time right now, with the next debates & elections coming up. (Sigh) Ok, well enough about that.  I  have a good distraction for you. (For the moment anyway 🙂 ) Last week we picked out pumpkins, so now its time to decorate them!
The kids will love to help out with this part, believe me 🙂  I personally don't care for the creepy, scary, decor…so I've found some alternatives.  There are several various patterns & styles you can choose from, without even having to carve them.  So, let's check them out!
Paper leaves encircling a white pumpkin make a graphic statement. Trace fallen leaves onto orange, yellow and dark red tissue paper; (or whatever color you choose) cut tracings out and stick them to pumpkin using decoupage glue. With a flat-head bristle brush, push from leaves' outer edges toward the centers to pucker paper slightly and create "veins"; let dry. Brush a thin layer of glue over pumpkin.
For those of you who like to keep it simple, all you need for a perfect pumpkin is a fall garland. This requires no paint (meaning no mess) and you can bend and twist the wire twigs to your liking!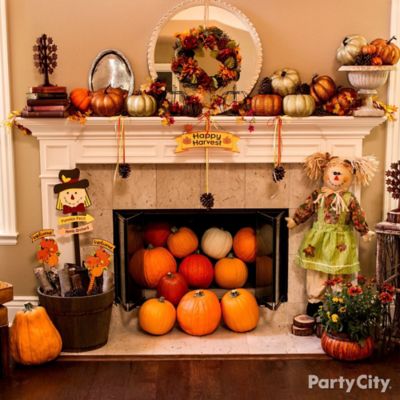 Instead of the usual, traditional haunts, try grouping pumpkins in a less-expected locale, like an unused fireplace.
A candy buffet, no-carve pumpkins display. To create the patterns, tape on multiple store-bought stencils (simple graphic designs work best), brush over them with black acrylic paint and you're done.
Play with neon hues and metallics for a two-tone pumpkin that makes a bright statement! Brush or dip one half and let dry. Then tape off and color the other half.
Pretty cool huh?  I don't know about you, but I am really feeling these ideas! The point is, to have fun, so I hope you enjoyed them. 🙂  Feel free to add any of your own decor ideas in the comments as well.  Oh, don't forget, we're still checking off our bucket list, we have a few more weeks to go, so I'll give you an update next Friday…Ok, until next time, "Toodles!" 🙂