Hello All.  How was your weekend?  You know what? I just realized that I've been posting literally every day for the  last 7 days! Way more than my usual 3 or 4 weekly posts. But hey, you don't mind right? Ok, awesome 🙂
Today, is the LAST day of the 3 day quote challenge. Wow…it's gone by so quickly! So, I've decided to just combine it with my Motivational Monday post to keep it simple.  Again, I'd like to thank theutopiauniverse.com for nominating me for this challenge, it's been truly enjoyable. 🙂
So, for today my focus will be on… Life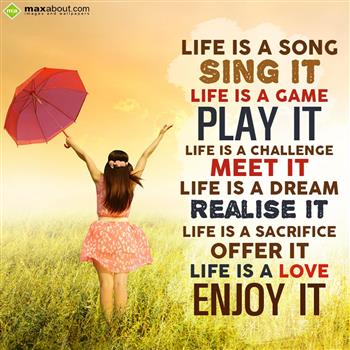 Yes, life is meant to be lived! Seize every moment. 🙂
Mission accomplished! So, how did I do? I hope you've enjoyed last 3 days of wonderful, inspiring quotes. 🙂  Oh…I almost forgot about the nominees.
Ok, so today's final 3 nominees are…
yellowwolfenlightenment.wordpress.com
jamilamurtaza6.wordpress.com
sprinkleofthoughtssite.wordpress.com
Rules For Nominees:  As you know, you are under no obligation to participate in this challenge…If you do,
Thank the person who nominated you,
Post 3 quotes, 3 days,
Nominate 3 blogs each day.  
So, congrats to all of the final nominees & enjoy the rest of your Monday, "Toodles!" 🙂